+++ "The spirit materializes things" +++ 1
The sport, with us the cycling, connects people, cultures and above all, nature intensifies with our society!
Furthermore, it trains Diziplin, consistency, fairness and respect, and can result in great experiences and progress for all those involved, which are sustainable.
The material, which accompanies the athletes through the toughest requirements and thus makes this fantastic timeless sport possible, plays a special role!
The events, which we were already able to "experience" on the whole planet, in particular the UCI World Cups, but also the World and European Championships, as well as the int. Multi-stage and the many UCI races, are unforgettable for us, especially since we have been here several times TOP.
The highest in cycling are the rainbow stripes of the world champion jersey, which our team member Annika Langvad won in 2011 and 2012 at MTB World Championships in the Elite Women!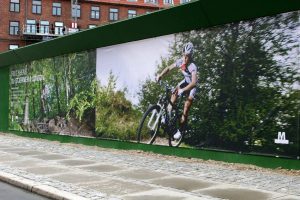 Annika Langvad , a wall in Copenhagen 2012
But also the 6th place at the Olympic Games at the XCO of Beijing for Christoph Soukup were a great highlight, in addition to the European and Vice European Champion titles and multiple wins at national championships of Denmark, Austria, Sweden and Germany and int. UCI- Races !
Significant here is the German Team Relay championship title 2005 for Team FujiBikes Europe, which even today is still valid.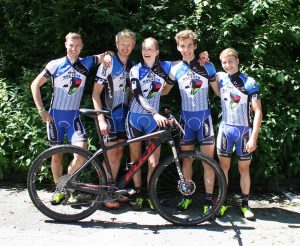 Team photo 2017
But also in the last years our team riders were able to achieve great successes.
The range of the ROCKETS is wide-ranging and therefore our athletes are successful in MTB XCO, XM, XCE and Enduro as well as in cyclo-cross and on the road and are still in Germany and in many European countries and overseas seen starters!
Our mostly longtime partners and sponsors not only provide us with all the material in top quality, but also trust us partly in the co-development of their products and in constructive critical messages about their products!
Yes, in some cases we also develop products or technical partial solutions, which we then use successfully in the race.
But the most important thing in our more than 17 years of work is working with young people, who have received the important features for their later life through the sport and also have lived from the beginning a zero tolerance in relation to DOPING in our teams !
Many of our athletes, who often came from their own offspring, have become successful in the respective national squads. Partially, they are still successful in other teams.
Or they have successfully completed their training and also a degree, are still partially loyal to cycling or recognized in their professions.
Majlen Müller, 5th place UCI World Cup XCE 2017
From a sporting point of view too, respect and fairness as the highest good are at the center of our work.
Now we look forward to the future and have been successfully contributing for many years to the fact that sport, especially OUTDOOR CYCLING, has a face and is positive in society.
Palmares/ERFOLGE :
2 x World Champion XM Elite women  2011, 2012
6th Olympic Games Peking 2008 Elite men
European Champion MX 2005 Elite women
Vice European Champion 2007 Elite men
2nd World Cup Dalby Forest ( GBR ) XCO Elite women 2011
3rd World Cup Windham ( USA ) XCO Women Elite 2011
51. Internationale Erfolge unserer Athleten
Internatonal Championships:
OLYMPIA Athen 2004 ( GRE ) 4th Place women OLYMPIA Peking 2008 ( CHN ) 5th Place men OLYMPIA London 2012 ( GB ) Nominated but injured
WM-Champion MX ( FRA ) women 2012
WM-Champion MX ( ITA ) women 2011
WM-Championships XCO ( ITA ) 6th Place men Elite
WM-Championships XCO ( GB ) 12th Place men Elite
EM-Champion MX women Elite
EM-Vicechampion XCO and MX ( GER ) men Elite 2007
EM-MX (CZ) 3rd Place women 2010
EM-XCO ( NL ) 3rd Place men U23
EM-Championships XCO (RUS) 10th Place men U23 EM XCO ( SLK ) and 15th Place women 2011
EM XCO ( ISR ) 15th Place 2010
UCI Worldcups XCO and XCE , TOP 15th:
2nd Dalby Forest XCO( GB ) women Elite 2011
3rd Windham XCO ( USA ) women Elite 2011
4th Apeldoorn XCE (NL) women 2017
5th final ranking World Cup XCE women 2017
6th Winterberg XCE ( GER ) women 2017
7th Antwerpen XCE (BEL) women 2017, 2019
7th Madrid XCO ( ESP ) men Elite
7th Fort William XCO ( GB ) men Elite
7th Schladming XCO ( AUT ) men Elite
7th Houfalize XCE ( BEL ) men Elite 2012
8th Mt. St. Anne XCO ( CAN ) men Elite
9th Mt. St. Anne XCO ( CAN ) men U23
9th Houfalize XCO ( BEL ) men Elite
11th Ofenburg XCE ( GER ) men Elite 2011
13th Pietermaritzburg XCO ( RSA ) women Elite 2011
13th Houfalize XCO ( BEL ) women Elite 2012
15th Bromont XCO ( CAN ) men Elite
Natonal Championships:
Danish Champion XC 2010, 2011, 2012 Danish Champion XM 2010
Danish Champion Cross 2011, 2012 Danish Champion TT 2011
Swedish Champion Men Elite U23 2012 Swedish Champion Teamrelay 2012
Deutsche Meisterschaf Teamrelay
Deutsche Vizemeisterschaf Teamrelay
Deutscher Meister men Cat.1 2008, 2010
Deutsche Vize-Meisterschaf XM women 2011
Deutsche Vize-Meisterschaft XC U23 women 2014, 15, 16
Deutsche Vize-Meisterschaft XCE, women
Deutscher Vizemeister XM men
Deutsche Meisterschaf XCO men 3rd place
Deutsche Meisterschaf XM 3. Place women 2008/11 Deutsche Meisterschaf XC 3. Place women U19
Austria Staatsmeister XC men Elite 2006/2008
Austria Staatsmeister XM 2008
Staatsmeister XC men U19 2008 Staatsmeister
Einer-Verfolgung Bahn 1000m 2008
UCI-Worldrankings
5th XCO men Elite 2008
6th XCO women Elite 2011
2011 7th XM women Elite 2011
9th XCO women Elite 2012
10th XCO women U23 2009
15th XCO men U23 2012
Int. UCI-Races and Series
Winner Afxentia UCI Hors Classe  Stage-Race ( CYP) 2012
Winner Int. Bundesliga XCE ( GER ) elite women 2015
Winner Int. Bundesliga XC ( GER ) U23 women 2014/15
Winner int. Bundesliga XC ( GER ) women Elite 2011
Winner Danish MTB-Liga women Elite 2011, 2012
Winner UCI City Mountainbike Antwerpen XCE ( BEL ) 2016
Winner UCI City Mountainbike Apeldoorn XCE ( NL ) 2016
Winner UCI HC Heubach XCE ( GER ) 2015
Winner UCI C1 Saalhausen XC ( GER ) 2011
Winner UCI C1 Vaarde XC ( DK ) 2011, 2012
Winner UCI C1 Sunshine Cup , race 1 ( CYP ) 2011, 12 1. Place UCI C1 Sunshine Cup , race 2 ( CYP ) 2011
Winner UCI C1 Sunshine Cup, race 3 ( CYP ) 2012
Winner UCI MTB-Cup Münsingen XM ( GER ) 2016
2. Place UCI C1 Münsingen ( GER ) 2011
Int. Bundesliga XC 2nd U23 Men U23 2012
Int. Bundesliga XCE 3rd place elite men 2014
2. Place St. Johann Sprint ( AUT ) men Elite
5. Place UCI C1 Racerscup Mutenz ( CH ) men Elite
7. Place UCI C1 Racerscup Lugano ( CH ) men Elite
9. Place UCI C1 Münsingen XCO ( GER ) men Elite
11. Place UCI C1 Saalhausen XCO (GER ) men Elite
National German Races:
Landesmeister BaWü XC women Elite 2009, 11, 12
Landesmeister BaWü XC men U23 2011
Landesmeister Miteldeutschland XC men Elite 2011, 12, 14, 15, 16, 18, 19
Landesmeister Cross Thüringen men Elite 2011, 12, 14, 16, 18
Landesmeister Sachsen-Anhalt XC 2011, 12, 15, 16, 18, 19
Landesmeister Sachsen-Anhalt MX 2016
Landesmeister Sachsen-Anhalt Cross 2015, 19
Landesmeister Sachsen-Anhalt TT 2015, 16
Landesmeister Sachsen-Anhalt RR 2015, 16
Landesmeister Thüringen MX 2016, 19
Landesmeister Bayern XC women Elite 2011, 13, 14, 15, 16, 18
Landesmeister Bayern MX 2011, 13
Landesmeister Bayern Cross 2014, 15
Landesmeister NRW XC women U19 2011, 2012, Elite 13, 14, 15, 16, 19
Landesmeister NRW Bahn U17 2018, 19
Landesmeister NRW some more titles in some disciplines
Winner Deutschland-Cup XC 2014, 15
Winner MDC-CUP ( GER ) 2011, 12, 14, 15, 17
Winner NRW-CUP ( GER ) 2011, 12, 13, 15, 16, 18, 19
Winner Bayern CUP ( GER ) 2011, 12, 14